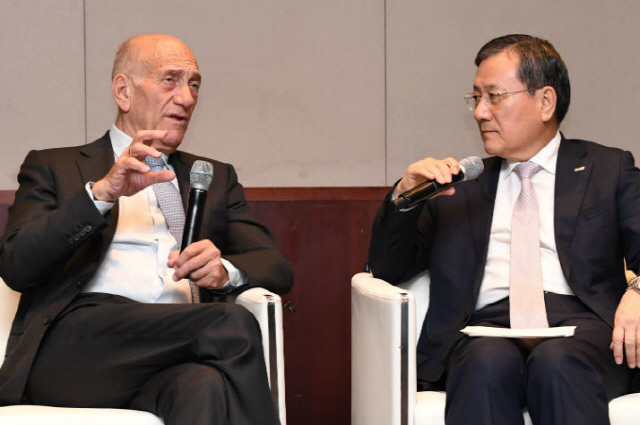 courtesy of etnews
"Samsung is at the forefront of the global electronics industry now but no one knows who will come ahead of it in the future. Be careful."
Former Israeli Prime Minister Ehud Olmert made the remarks in his special debate with KAIST President Shin Sung-chul at Shilla Hotel in Seoul Wednesday, asking whether "Korea's industrial sector is changing in response to the needs of the future." Olmert appears to be conscious of the fact that Samsung Electronics' mobile phone unit is on the decline and there are pessimistic views on its semiconductor segment despite the company's record quarterly earnings recently.
The former Israeli premier is the very person who made Israel a "haven for startups" and took the lead in attracting foreign investment from abroad and boosting research and development (R&D) while serving as the 12th premier of Israel. It's Olmert who created the "Yozma Fund," which symbolizes Israel's startup spirit.
Olmert said, "We have to continue to support young people although they failed in new challenges. Tell them to be patient and challenge to the end," adding that "young people will challenge only when they have nothing to lose even after failing." He said, "It's necessary to sympathize with their failure." "They need to be reminded that today's losses won't lead to losses in the future necessarily. Looking back later, we can understand that failure is a small fraction of what is triggered by incessant challenges," Olmert explained.
Israel, which boasts technology and talented people as its main resources, resembles Korea in many respects, but there is one outstanding difference between them. That's youngsters' attitude toward failure. Unlike Korea's young people who are afraid of failing, Israeli youths are armed with "chutzpah," the country's unique challenge spirit of not being afraid of failure. In fact, Israel has created a corporate foundation environment where failure is not feared. "The Israeli government gives young people a signal that they must not be afraid of failure," he said, adding that "the government reviews startups' ideas and gives subsidies, but it hardly gets back in return." That's because of the necessity to get startups free from fear of returning subsidies.
Olmert introduced "Talpiot" and "Unit 8200," noting that the army drives startups in Israel. "Israeli youths confirm their abilities through the army at an early age. They learn how to solve problems in the army," he said. One needs to look at Israel's war history to understand "Talpiot" and "Unit 8200." Israel suffered the most humiliating defeat in the 1973 Yom Kippur War. What Israel came up with at the time was neither "military buildup" nor "powerful weapons" but the creation of innovative organizations. Israel then organized completely difference military units - "Talpiot" and "Unit 8200." These forces played the role of defending Israel as intangible secret weapons and emerged as elite units that created hundreds of billions of dollars of added value.
What's most important in the Talpiot units is "imagination" and "creativity." They focus on hitting upon ideas in the boundless imaginary space and putting them into practice. For example, the Talpiot units created "Iron Dome," a mobile all-weather air defense system that can protect all villages in Israel at a time when other countries were eager to develop powerful weapons.
Since its foundation in 1952, Israel's Unit 8200 has specialized in collecting secret information and deciphering a code. People who show outstanding abilities in cyber security and data analysis belong to this unit. According to Forbes, soldiers in Unit 8200 have to solve problems for themselves like entrepreneurs. In this way, there will be some items to be launched as new businesses. There are reports that more than 1,000 companies have been established by those from the unit. Data security company Adallom bought by Microsoft for $320 million and data analysis company Onavo acquired by Facebook for $150 million are prime examples. In the debate, Olmert said, "Soldiers from Unit 8200 created value worth at least $75 billion."
Shin asked a question as to how Israel carried out innovation successfully. Olmert replied, "Israel in fact had no other alternative but to seek innovation." "Israel had nothing to lose due to the lack of resources and risky national security. Israelis came to know that repeated challenges will put the country on track for success," he said, adding that "it might be an exaggeration to call Israel an innovation state. We just tried to back up young people's challenges and develop high technology."
Shin mentioned that the number of Israeli startups listed on Nasdaq exceeded that of companies listed by Europe as a whole. Olmert answered, "Israel lacks population that can support domestic sales. So Israel focuses on technologies that can be applied commonly from the beginning." For instance, Israel's autonomous driving startup Mobileye was listed on Nasdaq three years ago, and Intel acquired the company for $15 billion later.
Shin asked what area would create the most synergy when Korea and Israel collaborate. Olmert answered, "Korea achieved success in automobiles and electronics whereas Israel achieved innovation. Their combination will bring good results in unknown industries."
/Janice Yunji Kim Reporter yjk@decenter.kr
<저작권자 ⓒ 디센터, 무단 전재 및 재배포 금지>
XC