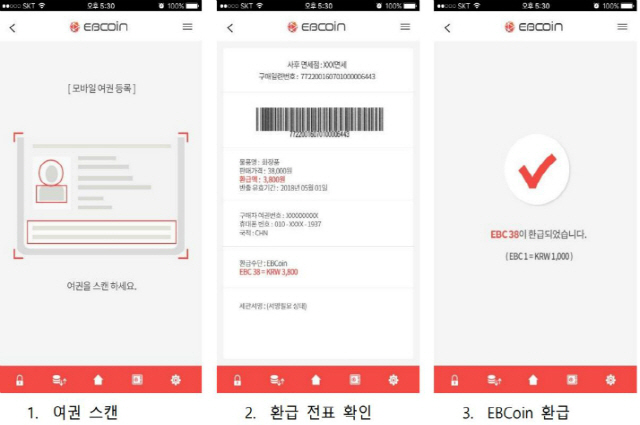 What should foreigners do if they are to get VAT (value-added tax) refunds for commodities bought domestically? It's not easy for a foreigner to get a tax refund. He or she must receive a tax refund slip at the time of purchase and have his or her commodity carry-out report confirmed by presenting a passport at the customs house at the time of departure. He or she could get a tax refund only after queuing at refund counters.
It's hard to simplify this complicated procedure though. That's because authorities have to verify if the visitors are truly foreigners and what kinds of commodities they want to have tax refunded. Yet it's possible to simplify the procedure if transparency, one of blockchain technology's strong aspects, is exploited. "Consensus" in the blockchain network could replace the confirmation procedure and customs houses and franchisees could be "nodes" as participants in the blockchain network.
Blockchain enterprise EBC Foundation has formed a partnership with Jeju Island, frequently visited by foreign travelers, to apply blockchain technology to its Jeju tax refund project. EBC Foundation came into being through the reverse initial coin offering (ICO) of three companies: payment solution suppliers KR Partners and GCMC and tax refund firm Global Insight. In an interview with Decenter Jan. 11, EBCoin chief operating officer (COO) Han Seok-kyeong said, "KR Partners has been specializing in payment gateway (PG) services since 2007 and GCMC also has engaged in currency exchange and tax refund businesses. We grafted new technology onto existing business models."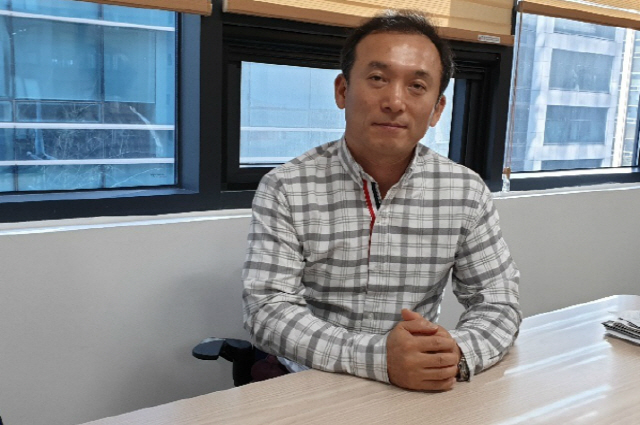 Partnership with Jeju also has been made possible based on existing businesses. "KR Partners had already maintained a branch in Jeju and used to carry out tax refund and currency exchange services for Jeju tourists," Han said. Asked why his company had decided to cooperate with Jeju's Future Strategy Bureau fully, he said, "After looking at Jeju Governor Won Hee-ryong's blockchain special zone blueprint, we thought that the goal of Won and EBC Foundation was the same. Applying blockchain technology to tourism was in line with the governor's aspiration to change the lives of Jeju inhabitants via blockchain."
The blockchain-powered Jeju tax refund project is implemented as follows. A foreign tourist downloads the EB Wallet application at his or her mobile phone and registers a passport with the app. This registration replaces the process of confirming the passport at the customs house. If tourists buy goods at franchisees via fiat currencies or credit cards, then verification procedures at the customs house and franchisees will be carried out in the Ethereum blockchain network. Taxes refunded according to the verifications will be paid via EBCoin and loaded onto the wallet.
Then one cannot but wonder. If taxes are refunded as EBCoin, the value of refunded taxes could change in the future according to the fluctuating value of EBCoin. But Han says refunded taxes can be withdrawn at once through kiosks in Jeju if they are secured by credit cards. In other words, visitors can exchange EBCoin whenever they want before the value changes greatly. In case of not using kiosks, they can use EBCoin as soon as they clear customs. "At the time of clearing customs, the lock on EBCoin in the wallet is released and visitors can use coins freely at the duty-free shops of Jeju Airport," Han said.
Simplifying the tax refund procedure is not the sole advantage. Refund fees are saved as decentralized blockchain technology cuts out the middleman. Tax refund fees reach up to 30%. Foreign visitors will be able to get more refunds without paying fees. Also, it will be possible to encourage travelers to use EBCoin and install the EB Wallet by providing them with tangible benefits. "Chinese tourists grab 36% of the $60 billion global tax refund and tend to buy things after checking the lowest price," said Han, adding that "they will download the wallet to get more refunds only if franchisees mention our policy of no refund fees."
What EBC Foundation aims for through the blockchain-based tax refund project is the "evolution of payment methods." "Cash payments yielded to credit cards and credit cards yielded to mobile payments. ECB Foundation believes the blockchain-based payment scheme to be the next payment solution," Han said.
EBC Foundation will release the demonstration version of its blockchain-based tax refund project in late January. The company plans to designate two franchisees in the second quarter of this year and verify its service by August. "Hopefully, EBCoin will become an actual use case as 'the coin for travelers.' In the long term, we will add a donation function to our app to enable tourists to donate the leftover money," Han stated. /hyun@decenter.kr
사동석 기자
< 저작권자 ⓒ 디센터, 무단 전재 및 재배포 금지 >