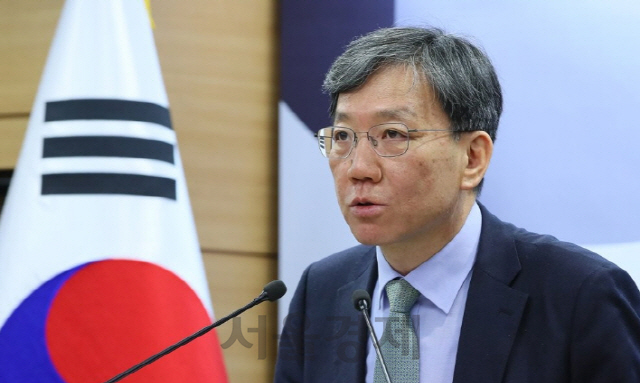 Lee Yeon-ju, head of the regulatory reform office, briefs reporters on the government's plan to introduce a regulatory sandbox program Thursday. /Yonhap News
Korea will introduce a regulatory sandbox system next week to prevent existing regulations from dragging new technologies and industries down.
To help businesses identify the existence of regulations swiftly, a "quick regulation identification" scheme will be adopted; "test exemption" and "temporary permission" systems will also be launched to exempt companies from regulations and advance their market release of products and services under certain conditions if relevant laws are obscure.
The Korean government announced these and other measures after discussing its preparations for the regulatory sandbox at a meeting chaired by Prime Minister Lee Nak-yeon Thursday. A regulatory sandbox is a mechanism designed to exempt and shelve regulations so companies can perform innovative activities freely like a sandpit in the playground where children can play freely.
The government has formed an intragovernmental task force to discuss the creation of the regulatory sandbox program under the initiative of the Office for Government Policy Coordination. In March last year, the government submitted five innovation-related bills to the National Assembly and four of them have been approved. Of them, laws on information and communication integration and industrial convergence will go into effect Jan. 17 and those on financial innovation and regional special zones will be implemented from April.
To begin with, the government has prepared an institutional framework for "permitting first and regulating later." Specifically, companies are able to get replies within 30 days after they inquire about relevant regulations concerning new technologies and industries. If the government does not respond by the deadline, the firms can release their products and services on the market on the assumption that there are no existing rules.
In the event that it's difficult to market new products and services - backed by safety and innovation - because of ambiguity and absurdity involving relevant regulations, the government will allow companies to market products quickly under the temporary permission system.
The government will also exempt companies from existing regulations in carrying out tests in case commercializing new products and services is difficult due to obscure and unreasonable provisions or prohibition regulations.
Safety measures have been prepared to minimize the side effects of hasty deregulation.
First of all, the tentatively-named Deliberative Committee on Regulatory Exemptions can restrict the granting of exemptions if new products and services are deemed to pose a threat to people's lives and safety. If problems take place or are expected in the course of tests, exemptions would be called off promptly. In addition, companies will be obliged to buy insurance programs.
The government plans to convene a meeting of the deliberative committee at least once a quarter and such meetings will take place frequently in the first six months after the measures took effect.
The Ministry of Science and ICT and the Ministry of Trade, Industry and Energy will unveil its blueprint on how the committee will be formed and operated before the first committee meeting scheduled for February. The two ministries say around 20 companies have already applied for a review on their products and services.
"Our flexible application of regulations will create an environment conducive to companies' technical innovation and brisk foundation," said Lee Yeon-ju, head of the regulatory reform office, adding that consumers will gain a wider access to new products and services and the government will manage regulations reasonably. "With the latest measures, Korea will have the most advanced system among the world's 20 countries considering the introduction of the regulatory sandbox program." /edshin@decenter.kr
<저작권자 ⓒ 디센터, 무단 전재 및 재배포 금지>
XC