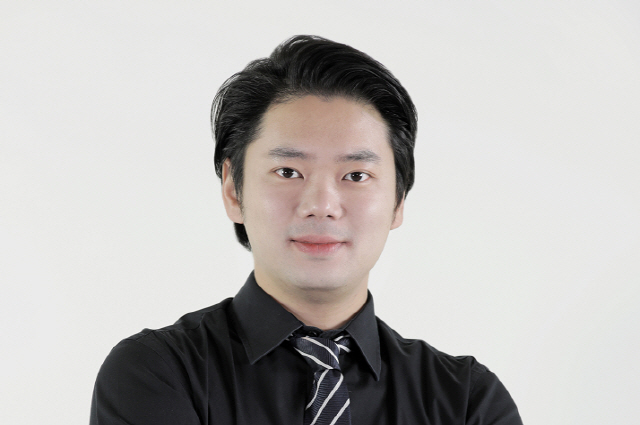 Cosmochain CEO Song Ho-won/ courtesy of Cosmochain
Cosmochain, the beauty contents platform that drew keen attention as the first blockchain startup in which Kakao invested, wrapped up its beta service last month. The beta service was received so well that it made the top 10 in the beauty application section of Google Play Store. Cosmochain plans to unveil its full version in the first quarter of next year and aims to be embedded into the beauty segment of global messenger services.
Cosmochain CEO Song Ho-won attributed these distinguished results to the fact that "I don't make blockchain stand out." "Users will hesitate if you appeal to them merely on the grounds that your DApp is based on blockchain," said Song, adding that users usually see it only as an "application" while being unaware that it is based on blockchain.
Launched in August, "Cosmee," Cosmochain's DApp, is an Ethereum blockchain-based beauty social network service (SNS) that enables users to share reviews on cosmetics. If users upload information on beauty and cosmetics, leave comments or click "likes," they get "Cosmo Power" tokens in compensation.
Cosmo Power, a token used within Cosmee, serves as an indicator to gauge users' content influence, enabling users to buy cosmetics and other products at the marketplaces of Cosmochain's partner companies. Users can also monetize tokens by converting them into Cosmochain's cryptocurrency "COSM" at crypto exchanges. In the beta service, users with Cosmo Power tokens were able to convert them into COSM or buy products in Womanstalk in collaboration with the online beauty commerce platform.
Cosmee completed its pilot test after recording 80,000 accumulated contents, 1.62 million "likes" and 30,000 daily active users (DAUs) in the four-month beta version period. These are remarkable achievements, considering that DAUs of domestic beauty applications average 30,000 to 50,000. Song said, "Cosmee's full version will be launched in the first quarter of next year and we are seeking to get our service embedded in global messenger services by the end of next year."
Cosmochain began to steal the limelight as a DApp platform after attracting investments from Kakao Investment, a subsidiary of Kakao, Signum Capital and Block Crafters Capital. The company's potential, in particular, has been brought into the spotlight again as it was Kakao's first investment case for blockchain and joined Klaytn, the public blockchain platform of Kakao's blockchain subsidiary Ground X. Kakao Investment took part in Cosmochain's latest investment round where investors bought COSM in circulation, not from Cosmochain.
Cosmochain formed a partnership with China's beauty-themed software maker Meitu in November. The selfie app boasts 450 million users in 26 countries around the world and its hardware business was acquired by Xiaomi last month. "We plan to integrate into our full version to be launched next year a technology that recommends make-up based on AI (artificial intelligence) algorithm in collaboration with Meitu," Song said./wonjaeyeon@decenter.kr
<저작권자 ⓒ 디센터, 무단 전재 및 재배포 금지>
XC